On November 12, 2019, the United States Bankruptcy Court for the Eastern District of Texas will go live on NextGen ECF, the latest iteration of the national case management and electronic filing system. To prepare for NextGen, filing users must first obtain a PACER account, or upgrade an existing PACER account.
Go to our NextGen page for more information.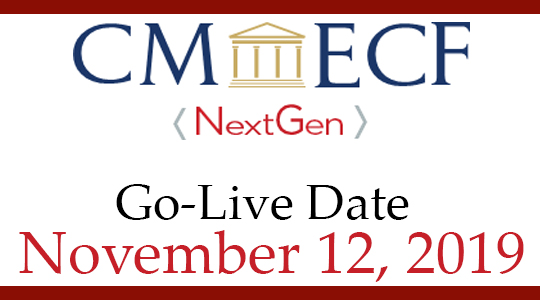 Feedback
Your feedback is important to us, it helps to ensure we are providing excellent service.  If we have done an extraordinary job, or you feel an area needs improvement, please click on the feedback link to share your comments.
CM/ECF Maintenance
Scheduled maintenance of our servers occurs between the hours of 4:00 AM and 12:00 Noon every Saturday.  Users may experience brief service outages during this maintenance window.
Hints & Tips
In presenting certificates of disinterestedness for employment applications, one should note that the employment standards for a professional under...
The clerk's office is open for business Monday - Friday from 8am to 4pm to accommodate filings.  If CM/ECF is inaccessible, an Electronic Filing User...
News & Announcements
The Beaumont Clerk's Office will be closed Friday, September 20,  due to inclement weather.  All More »
The Beaumont Clerk's Office is closed today due to inclement weather.  All electronic services sh More »